Ego Eimi – It is I: Falling in Eucharistic Love, by Fr Armand de Malleray, FSSP; Lumen Fidei.
Order: lumenfidei.ie/product/ego-eimi-it-is-i/
"A very useful contribution to the people's understanding of the mystery of the Eucharist"  Most Rev Malcolm McMahon OP, Archbishop of Liverpool
---
Jesus and the Jewish Roots of the Eucharist Unlocking the Secrets of the Last Supper, by Brant James Pitre, Doubleday Religion, 2011
What was the Passover like at the time of Jesus? What were the Jewish hopes for the Messiah? What was Jesus purpose in instituting the Eucharist during the feast of Passover? And, most important of all, what did Jesus mean when he said, This is my body… This is my blood? To answer these questions, Pitre explores ancient Jewish beliefs about the Passover of the Messiah, the miraculous Manna from heaven, and the mysterious Bread of the Presence. As he shows, these three keys; the Passover, the Manna, and the Bread of the Presence have the power to unlock the original meaning of the Eucharistic words of Jesus. Along the way, Pitre also explains how Jesus united the Last Supper to his death on Good Friday and his Resurrection on Easter Sunday.
---
Abandonment to Divine Providence, by Fr Jean-Pierre de Caussade  S.J.
This spiritual classic seems to have been written just for our times of worry and uncertainty.
---
The Soul of The Apostolate, by Dom Jean-Baptiste Chautard.
A classic on the primacy of the interior life. Against the temptation of activism, or against helplessness when one is prevented from actively serving God, this book reminds clergy and laity that personal prayer is the key. The interior life seeks God in everything. It is a life of prayer, teaching us to live in the presence of God. It teaches us that God grants fruit to our initiatives in proportion with their root in mental prayer.
---
How Catholic Art Saved the Faith
The Triumph of Beauty and Truth in Counter-Reformation Art
by Elizabeth Lev, Sophia Institute
Not long after Martin Luther's defiance of the Church in 1517, dialogue between Protestants and Catholics broke down, brother turned against brother, and devastating religious wars erupted across Europe.
Desperate to restore the peace and recover the unity of Faith, Catholic theologians clarified and reaffirmed Catholic doctrines, but turned as well to another form of evangelization: the Arts. Convinced that to win over the unlettered, the best place to fight heresy was not in the streets but in stone and on canvas, they enlisted the century's best artists to create a glorious wave of beautiful works of sacred art — Catholic works of sacred art — to draw people together instead of driving them apart.
---
FICTION:
Loss and Gain: The Story of a Convert, a novel by St John-Henry Newman. Ignatius Press.
Mostly autobiographical: a pleasant opportunity to become familiar with the spiritual journey of the great 19th century convert.
This novel about a young man's intellectual and spiritual development was the first work John Henry Newman wrote after entering the Roman Catholic Church in 1845. The story describes the perplexing questions and doubts Charles Reding experiences while attending Oxford. Though intending to avoid the religious controversies that are being heatedly debated at the university, Reding ends up leaving the Church of England and becoming a Catholic. A former Anglican clergyman who was later named a Catholic cardinal, Newman wrote this autobiographical novel to illustrate his own reasons for embracing Catholicism.
---
Come Rack! Come Rope! 
A historical novel by the English priest and writer Robert Hugh Benson (1871–1914), a convert to Catholicism from Anglicanism. Set in Derbyshire at the time of the Elizabethan persecution of Catholics, when being or harbouring a priest was considered treason and was punishable with death, it tells the story of two young lovers who give up their chance of happiness together, choosing instead to face imprisonment and martyrdom, so that God's will may be done.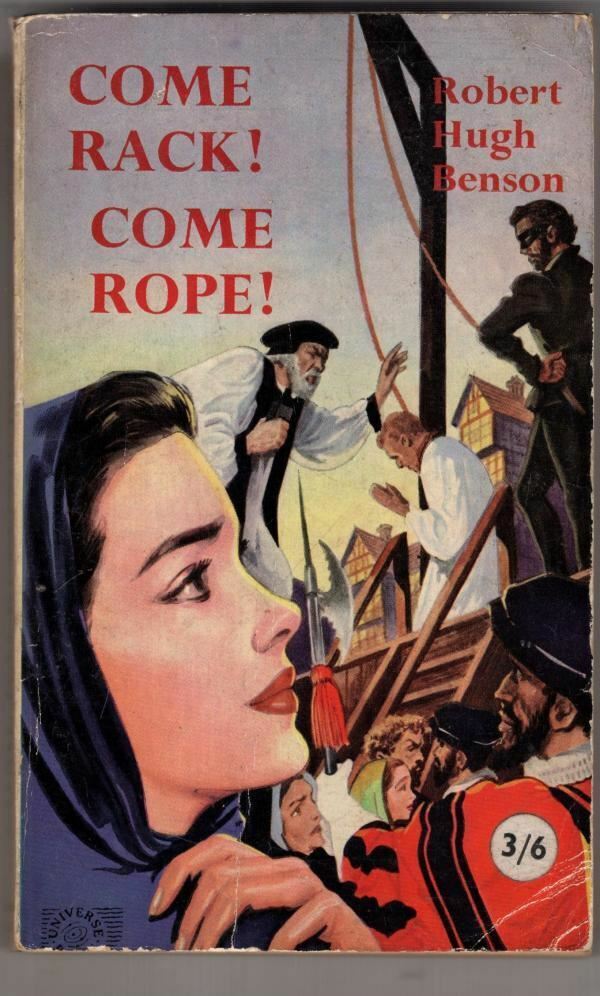 ---
The Egyptian Guide – From Jihad to Joy, by Evelyn Oliver, Regina Press. Order: Amazon, LMS
In this deeply Catholic novel, a sentimental encounter in Cairo leads to conversion and heroism. While Islamists and liberals connive to oppress Christians, Catholic beliefs and practices prove vital for protection and spiritual survival.
The Egyptian Guide is a beautiful story of a woman's faith journey. It contains a wide range of comparisons between life experiences and the realities of faith. The author uses rich descriptive language to explore the depths of conversion, love, forgiveness, and their interactions expressed through geopolitical events, terrorism, radical conversion, and consecrated life. The chapters are short. The plot is fast-paced, and it covers a full range of emotions. Reading this novel was at times exhilarating, at other times heartbreaking, but wonderfully satisfying.
---
PRIESTLY SPIRITUALITY
The Traditional Mass, by Michael Fiedrowicz, Angelico Press (2020).
Shows the organic process by which the Roman rite was built up from its foundations into a magnificent structure, marked by the accumulated riches of each age through which it passed, and characterized by order, beauty, and piety in its texts, gestures, rubrics, chants, and calendar—ranging from the major elements to the most minute details.
In view of ever deepening interest in the traditional form of the Roman rite of Mass—which, according to Benedict XVI's Summorum Pontificum, demands "due honour for its venerable and ancient usage"—a comprehensive but concise introduction to its history, form, and theology is more than ever desirable.
---
X-Ray of the Priest in a Field Hospital, by Fr. Armand de Malleray, FSSP. Arouca Press, 2020; aroucapress.com/books/x-ray-of-the-priest.
This book identifies sinful hindrances and spiritual resources for a fruitful and rewarding priestly life in the twenty-first century.
"Written with both imagination and rigour, and merits a wide readership" – Fr Aidan Nichols, O.P.
"Fr de Malleray's reflections on the nature of the priesthood are fascinating and perceptive, and will edify both clerical and lay readers." – Dr Joseph Shaw, PhD, Oxf, Chairman of The Latin Mass Society
"Full of instruction yet easy to read." – Fr Thomas Crean, O.P.
"I am happy to recommend this robust set of meditations." – Dr Peter Kwasniewski
---
The Priestly Blessing, by Msgr Rossetti, Ave Maria Press. www.avemariapress.com/products/The-Priestly-Blessing
A renewed theology of priestly blessing, encouraging brother priests to embrace the habit of blessing people, objects, and events. This provocative and inspirational book shows how the blessing is integral to the identity of priests and crucial to the spiritual wellbeing of all the faithful.
Many priests shy away from blessing people and objects because of a lack of awareness of the rich tradition of Church blessings and a deficit in training for this important pastoral practice.
Rossetti traces the history of blessing in both the Old Testament and the New Testament. He also explores the various types of blessing, such as praise of God, the invocation of special benefit from God, and being consecrated to God.
---
Near Missed Masses (Ten Short Stories Based on Actual Events)
By Fr Armand de Malleray, FSSP   http://aroucapress.com/near-missed-masses
Can priests miss Mass? This little book light-heartedly depicts ten Holy Masses nearly missed by priests due to some opposition from within Holy Church, not from without. From Kilimanjaro to Loch Ness, from Burma to Paris and more, the ten humorous short stories describe hindrances to the celebration of Holy Mass inflicted on innocent priests by sacristans, shrine rectors or even bishops. Those failed to recognise that, given a suitable time frame and with permission requested in Christian courtesy, Holy Mass offered in conformity with the rubrics takes precedence over any other activity and any other consideration. Hindering the celebration of Holy Mass affects: 1) God, whose extrinsic glory increases each time the Holy Sacrifice of the Mass is offered; 2) souls, deprived of the temporal application of Christ's saving merits that Holy Mass effectuates; 3) priests, whose ontological raison d'être is to offer the divine Victim. This short book pleasantly illustrates these truths through fiction, not through theological arguments. The depictions are based on actual events.